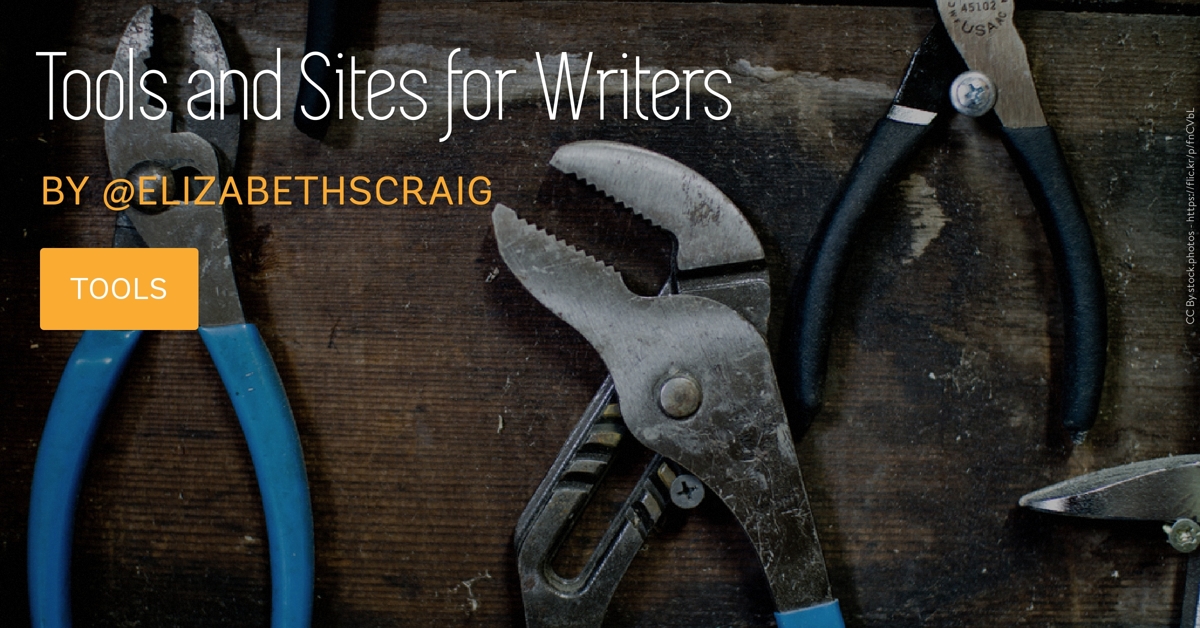 by Elizabeth S. Craig, @elizabethscraig
As I'm looking for helpful content for writers, I come across lots of different kinds of tools. Some of them I immediately put into use myself, or I'll add the article on the tool to an Evernote notebook to study for later.
Sometimes I come across things that aren't useful for me, but because writers all have different approaches, they'll be useful for someone. And I think many of these things are worth a try if we get stuck or if we haven't come up with our own tools yet. Here are a few.
Worksheets:
If you're interested in trying a worksheet to help get through plotting or brainstorming, there are many different resources available online. Here are a few to get your started:
Beat sheet from Larry Brooks of Storyfix.
Eva Deverell has 52 worksheets from 2015 alone and more each Wednesday.
Annie Neugebauer has some novel plotting worksheets.
Jami Gold has a nice variety of worksheets for writers.
Martina A. Boone offers some character development worksheets.
Or, if you're in the goal-setting mindset, DIY MFA has goal-setting worksheets.
Writing Courses:
Once every couple of months I get emails from writers asking where they might find online writing courses. I frequently will direct them to the RWA, Romance Writers of America–whether they write romance or not. Their courses range from the business of writing to social media and website creation, to the writing craft. Class fees are generally inexpensive and only slightly higher for non-members. Here are a few sites to get you started, but you can Google 'online workshops' and 'RWA,' you'll get plenty of results: RWA (scroll down), Colorado Romance Writers, Outreach International RWA, Lowcountry Romance Writers of America.
The IWSG has a great listing of courses (some free, others not) on their site (scroll to the bottom of the page).
Prompts as Warm-ups:
50 creative writing prompts on a variety of different areas from Bridget McNulty at Now Novel.
Prompts for Writers from Anjie Kokan
Michael Gonchar from the New York Times with 500 prompts for narrative and personal writing
Social Media:
Have trouble connecting with readers (or figuring out what to say when you do?) Angelina M. Lopez on Writers of the Storm explains how to maintain a social media calendar.
For Writers Who Need an Alternative to Excel:
If you're not great with spreadsheets but you're finding uses for them, try the free version of Airtable. They have spreadsheets for people who don't like spreadsheets.
Industry News for Writers:
The Hot Sheet: industry newsletter for authors (30 day free trial): from @Porter_Anderson & @JaneFriedman: http://ow.ly/DIld301hoVW
Need Help On a Specific Subject?
The free search engine for writers from me and Mike Fleming: Writerskb.com
That's all I've got right now…how about you? Come across any great tools or info for writers?
---
Need writing prompts, or free writing courses or worksheets? Links to resources:
Click To Tweet
---
The post Helpful Tools and Sites for Writers appeared first on Elizabeth Spann Craig.